"Workplace Bullying has Become One Of The Biggest Threats To Employees!"
Chances Are YOU WILL Become A victim of Bullies in the Workplace!
From: Yancey Thomas Jr
Does any of these sound familiar....
YOU are the target of insults
YOU are yelled and cursed at
YOU do everything wrong
YOU are treated differently than your co-workers
YOU are being setup for failure
YOU are the target of derogatory comments
YOU are being excluded from office social occasions
YOU are being abused physically
YOU are being humiliated in front of co-workers
YOU are being ganged up on by co-workers
Don't be embarrassed and don't be ashamed....
Remember YOU are the one being bullied
Remember YOU are not responsible for the problem
Remember the bully cares about controlling YOU
YOU can take control and get that Workplace Bully off your back!
Introducing:
What Every Target Of Workplace Bullying Needs To Know!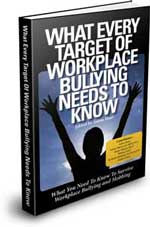 Are You A Target of Workplace Bullying?
Click here to view more details.
Learn how To avoid the traps, stop bullies in their tracks and get your life back!
More Information: STOP THE WORKPLACE BULLY NOW!!